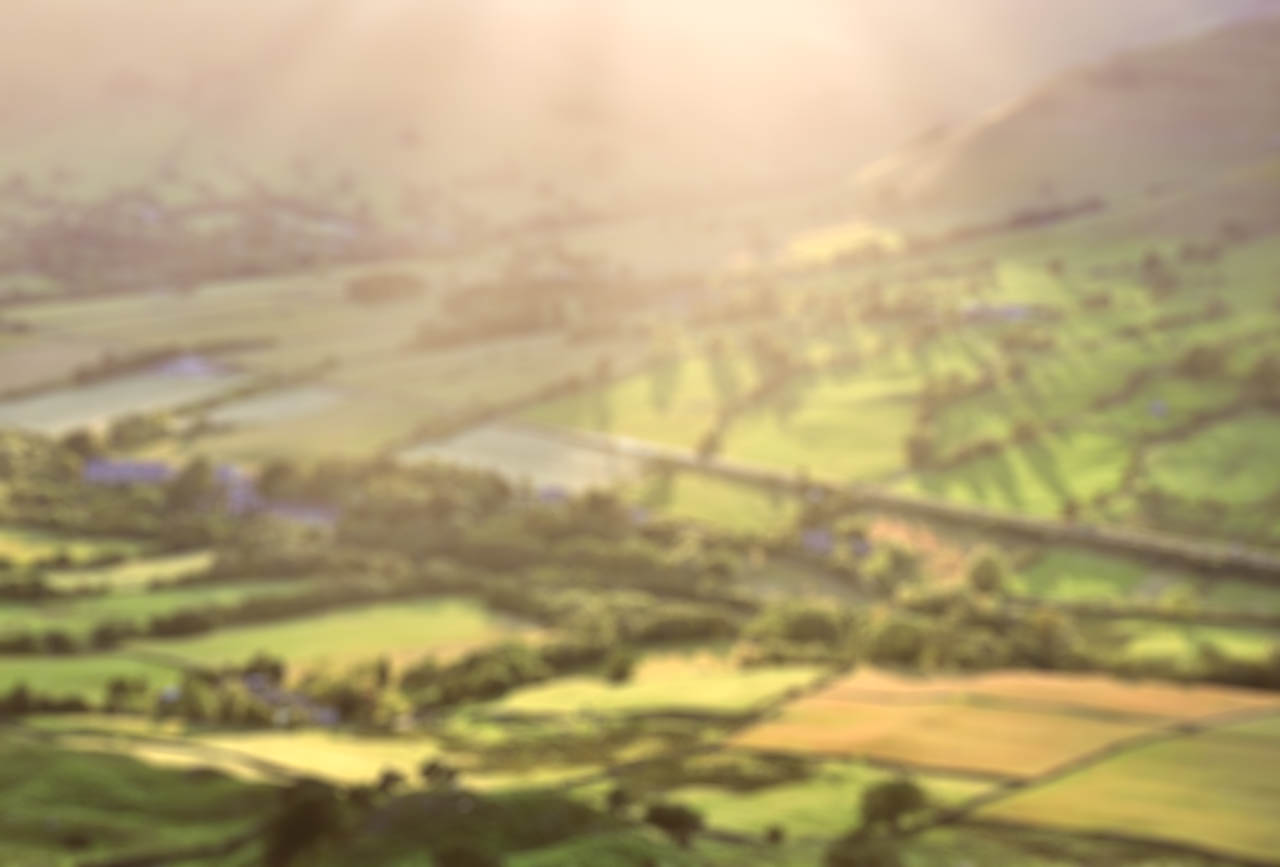 "I Nose-Dived Into A Bush…" – Tales From Tour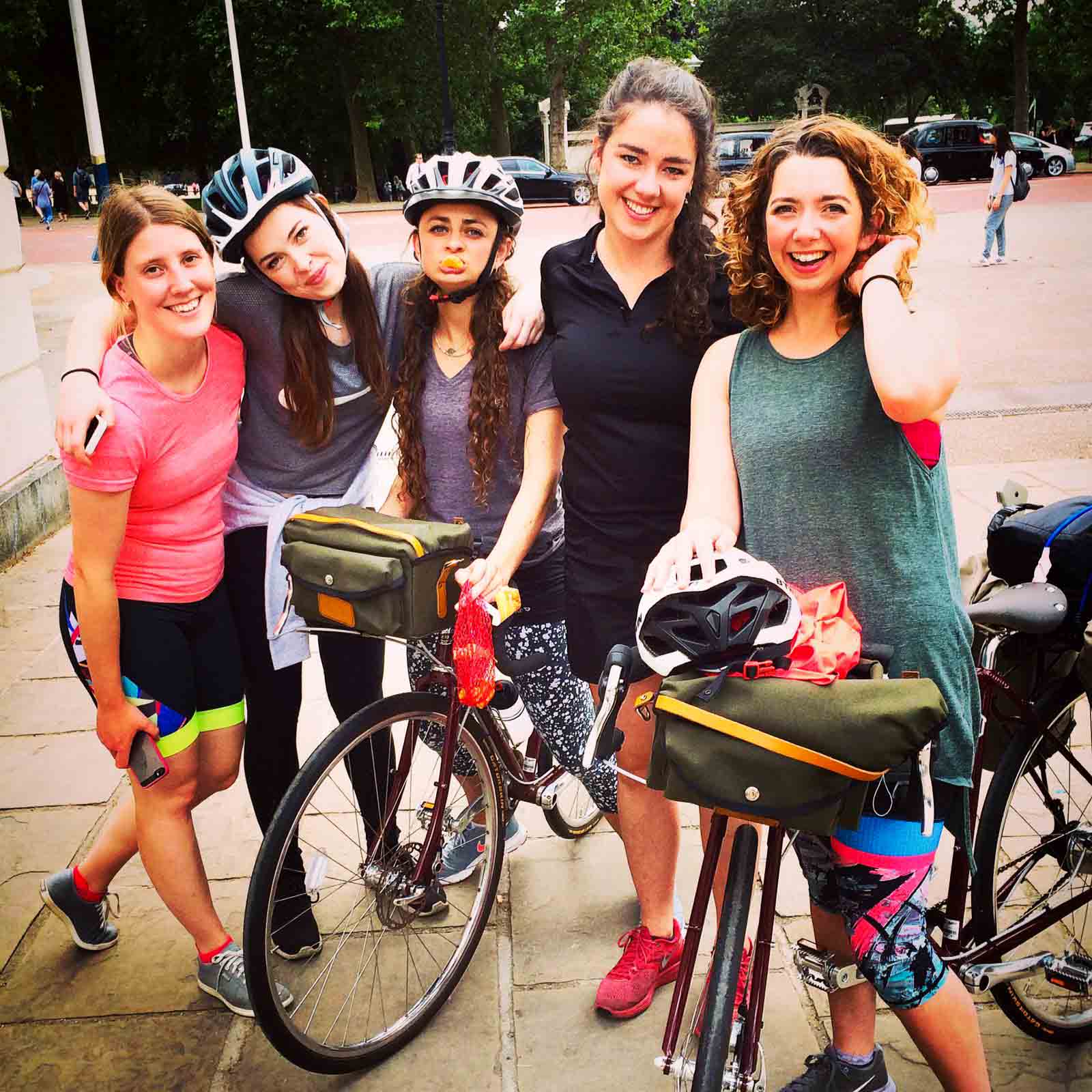 Elle Dillon Reams
,
Lianne Harvey
, 
Lizzie Muncey
 and
Lotte Tickner
 are the HandleBards' first ever all-female troupe. Together with their Tour Manager,
Stephanie Withers
, they're currently cycling 1000 miles from London to Edinburgh, whilst performing open-air Shakespeare en-route. We caught up with them, to find out what life on the road with one of the world's barmiest touring theatre companies is really like…
So, what's it like being a HandleBard?
LT: Mad. Hilarious. Life affirming.
LH: Definitely an experience I'll never forget!
LM: Yep – challenging and joyful, in equal measure.
ED-R: Haha. "It was the best of times. It was the worst of times".
SW: I use "Steph's Three S's"; Sweaty, stinky and super.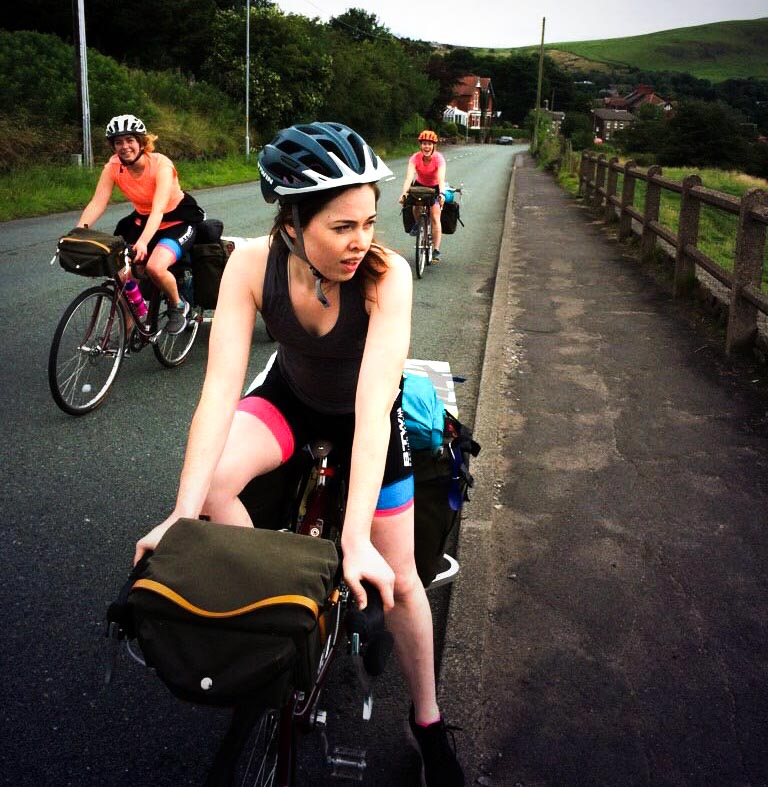 I assume you were all avid cyclists before?
SW: No, afraid not. I nose-dived into a bush the first time I road Dick (my Pashley bicycle).
LH: And my first experience on my Pashley ended with an unspectacular collision with a stationary vehicle…
LM: Yeh, I only got rid of my stabilisers one week into rehearsals!!!
ED-R: Do spin classes count?
LT: I mourned the loss (theft!) of my Stablinski 1970's tour bike as if it were my child. I love the cycle.
How did you feel going into rehearsals for the shows? What were you most excited about? What were you most nervous about?
LH: I felt hugely empowered being surrounded by so many talented women on the first day of rehearsals. I was nervous about learning the lines of the two shows, but later realised it was of little importance anyway!
LM: I was excited, nervous, uncertain and joyful.
ED-R: Yeh, I'd say both excited and hugely empowered to be part of the HandleBards' first all-female troupe. I was terrified about the cycling but I'm a sucker for a physical challenge.
LT: I too was terrified about lines, and stupidly excited about the adventure ahead.
SW: I was most nervous about entering a new field of work, but was seriously excited about working with an all-female cast.
What's been the biggest challenge of the whole adventure so far?
SW: Peak District. Peak District. Peak District.
LH: Yup. Performing shows after hills.
LM: Put simply – the physical, emotional and creative exhaustion of it all.
ED-R: Absolutely. Physical, mental and emotional exhaustion making you believe you can't do it. Also – that trailer is a horcrux…
LT: Spending all day, every day with the girls. You have no shell, no defences. It's a raw, unpredictable, beautiful challenge.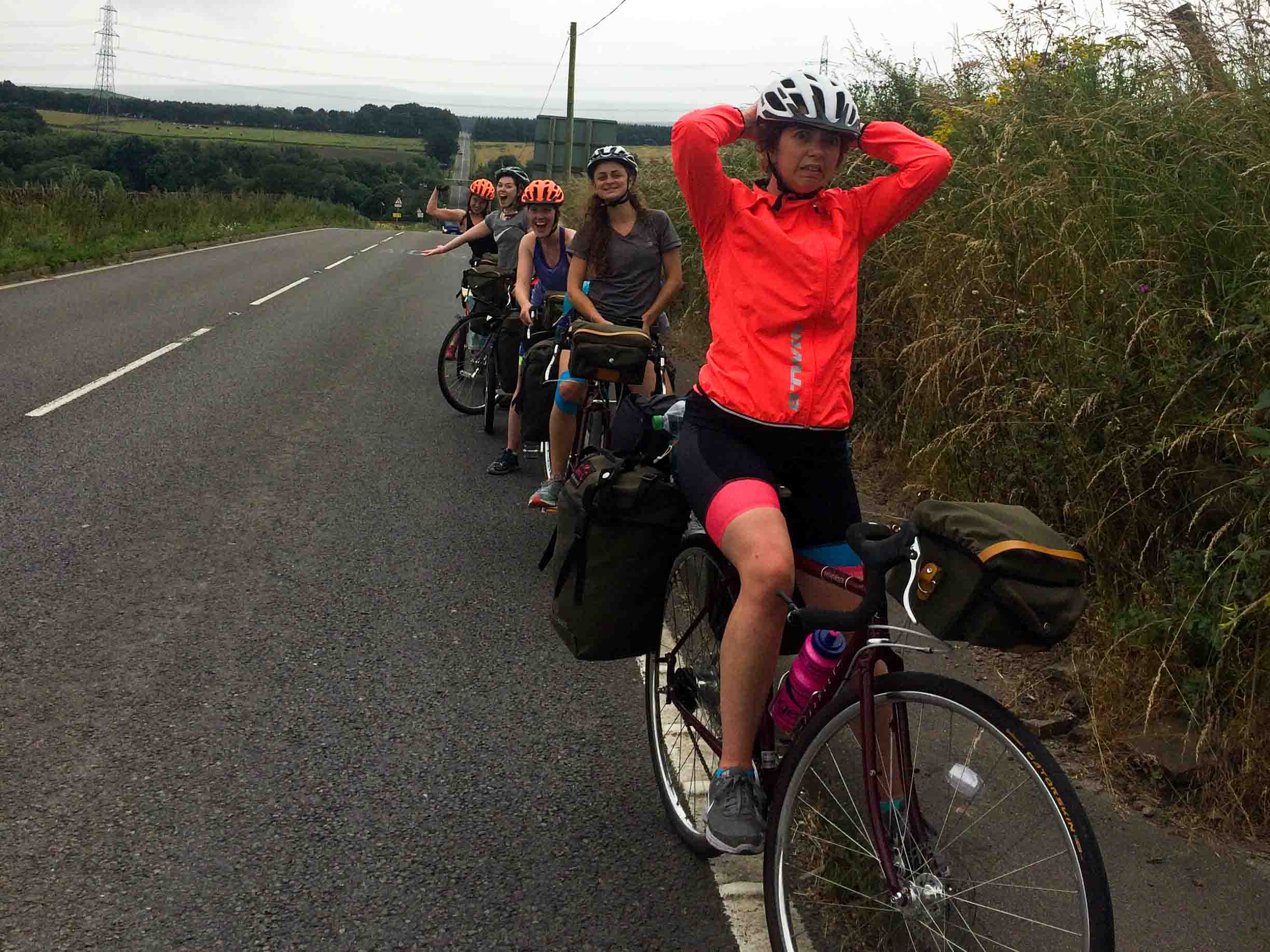 Have you met many interesting characters en-route?
ED-R: A wonderful woman started an impromptu performance of the 'Romeo and Juliet' balcony scene atop a bar terrace one lunch time, before exclaiming how proud she was of us young women, that we were truly on an adventure and encouraged us to continue to live live live!
LH: I've met so many people who have told me that our show was their first theatrical experience and that they enjoyed it – and that has been wholly satisfying for all of us.
LM: Yes, I have too. Joan the cat and Conzuala the spaniel have been some of my personal favourites.
LT: We also (unfortunately!) met a few sexist, bigoted landlords who have really kept us on our toes…
SW: True. I'm pretty sure I stayed with a murderer one night, but I survived to tell the tale!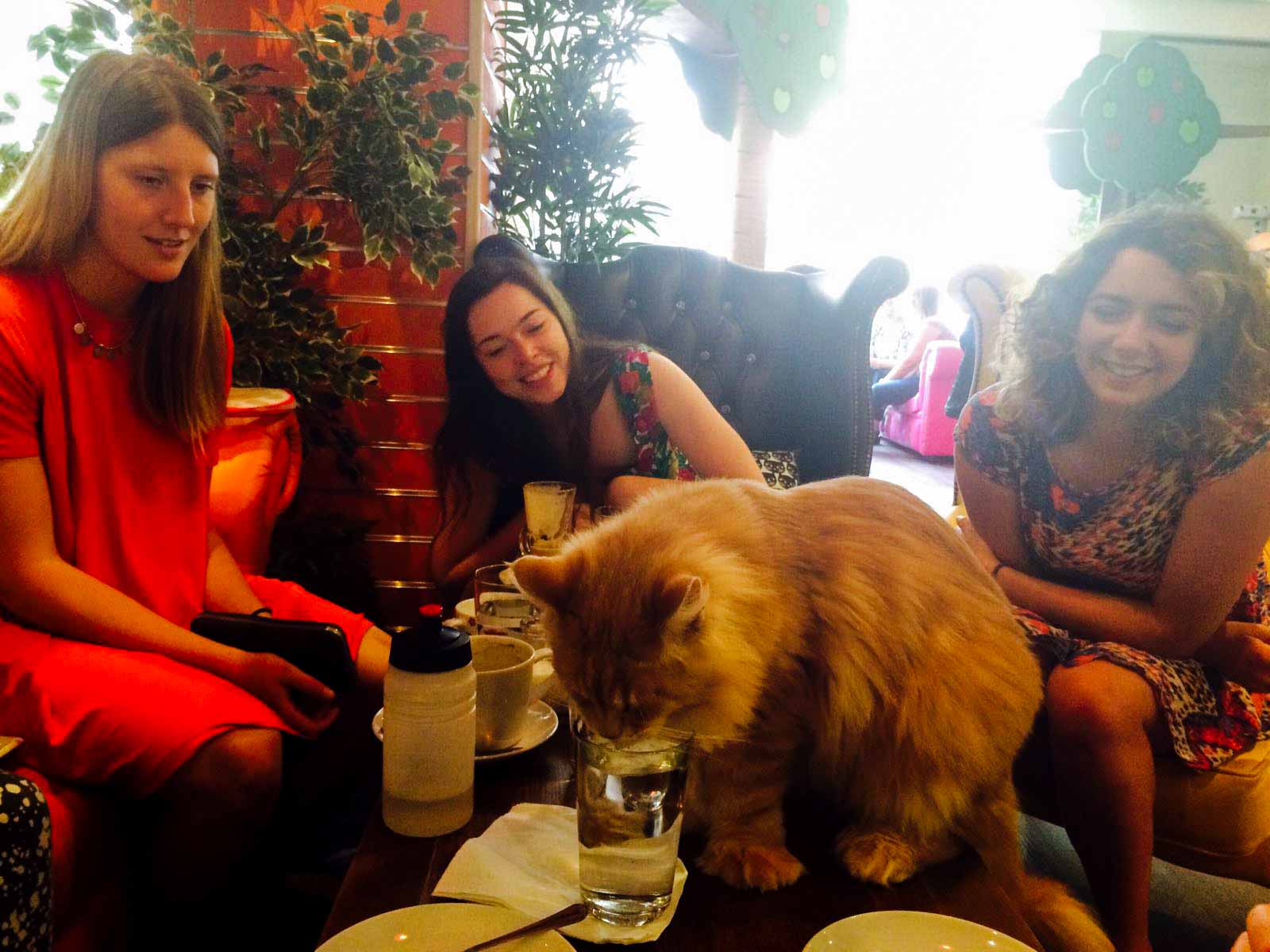 What are you enjoying most about the trip?
LH: Trail. Mix. (Minus the raisins.)
ED-R: That I adore the girls I'm with. I expect them to be there at the birth of my children.
LM: The increasingly regular occurrence of standing ovations is a very pleasing and satisfying experience.
LT: The cycling / Shakespeare combo – the perfect summer formula…
SW: AND – Chocolate Pavé errrrrrr'day.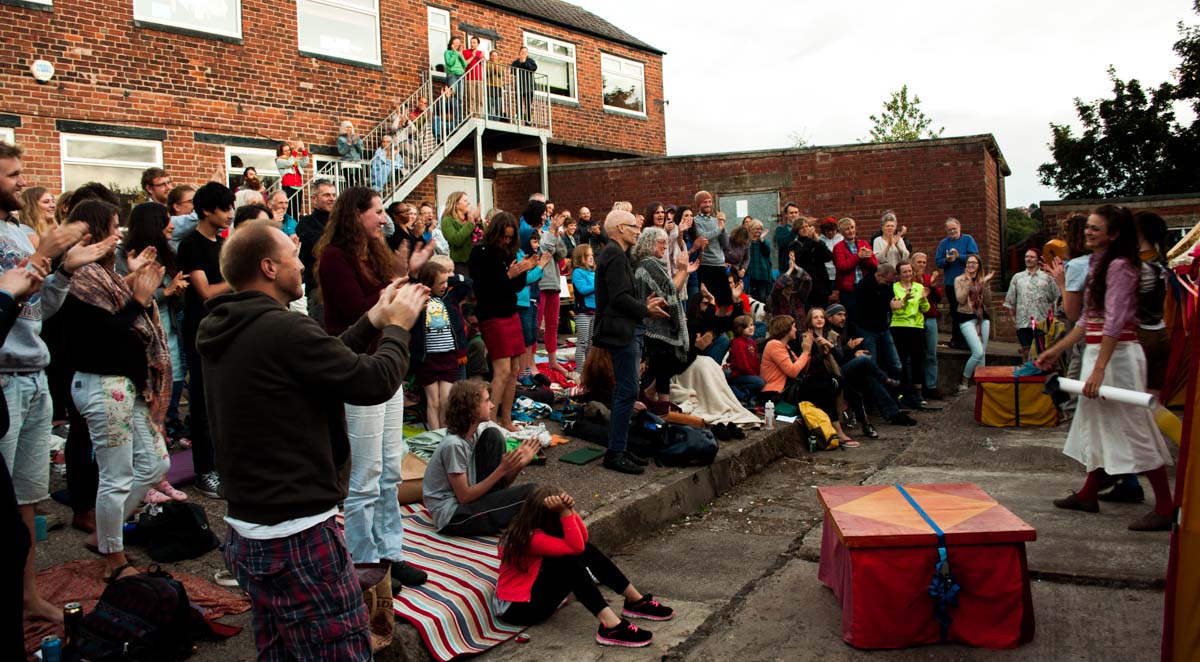 Have you had any disasters yet?
LT: Apart from a few uphill struggles and mozzie attacks, no disasters for me yet!
LH: I've had multiple… Accidentally making a non-PC ad-lib in front of a family friendly audience… Oh, and accidentally trying to bring a disabled audience member up on stage… Oh, and accidentally projectile vomiting celery on to the first row of audience…
LM: Being eaten alive by mozzies was a low point. Plus every time I open the costume pannier, the stench violates all of my senses.
What's it like being in each other's company 24 hour a day? Lots of in-jokes?
LT: It's all a bit mental really.
ED-R: It's been hard, maddening, patience and tolerance testing – and also the most fun I have ever had!
LH: Yep – try not to cringe, but I feel very lucky to be in the presence of such incredible, brave, talented women.
LM: And it's certainly exposing. In every fathomable way.
SW: I have never laughed so much, whilst simultaneously wanting to strangulate their curly little brown heads. The life of a Tour Manager…
And finally, what can an audience expect from coming along to your shows?
LM: Four vulnerable, brave women ready to give you their hearts.
ED-R: Entertaining, accessible Shakespeare for everyone.
LH: I think it's best to expect nothing – the joy comes in the unexpected.
LT: Except… Definitely expect to get your picnics stolen!
— — — — — — — — —
The girls will be performing at the Edinburgh Festival Fringe this month. They'll then head a bit further north before finishing their adventure with a week-long run in London. You can check out all of their dates here.